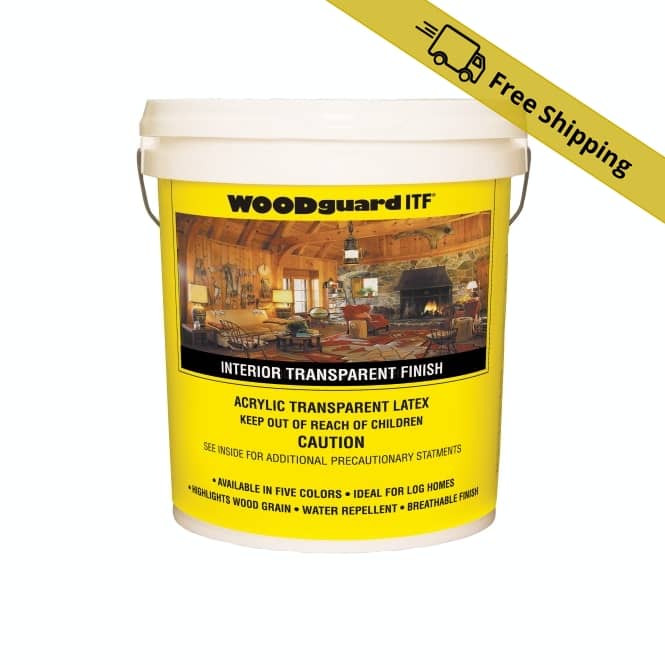 WOODguard Interior (ITF)
$234.99
WOODguard Interior Transparent Finish is a clear, water-based finish designed to highlight the wood grain on interior walls and trim of log homes.
 Ideal for all interior wood surfaces including paneling and unpainted doors & cabinets (not recommended for floors)

Protects & highlights wood grain while sealing out dust, dirt and household odors
Water-based for easy cleanup & quick drying
Water-repellent finish with low-luster satin sheen
Washable, non-yellowing transparent film
FREE SHIPPING ON ALL ORDERS!!
Product Description

WOODguard Interior contains a high-density, acrylic latex blended with a special wax to provide a tough, transparent and breathable finish. It contains no ammonia or harsh odors and meets VOC standards in all 50 states.

WOODguard Interior Coverage:

One gallon of WOODguard Interior covers 500 ft² on smooth wood and 250 ft² on rough wood (for the first coat). A second coat will cover a greater surface area than the first.

Mixing Instructions:

WOODguard Interior should be mixed thoroughly, making sure that all ingredients have been removed from the bottom of the container. For the 5-gallon bucket, we recommend using a drill mixer like the Hyde Stir Whip that can reach and scrape the entire bottom of the bucket. If using a mixer, attach to an electric drill and insert through the bunghole to mix. Make sure that the mixer reaches all the way to the bottom of the bucket. Now if this is not an option, you can also use a clean bucket and pour the contents of the stain bucket into it. Use a small amount of Mineral Spirits or Paint Thinner to retrieve the majority of any material left in the bottom of the WOODguard Interior bucket and add it back into the mixed bucket.

IMPORTANT: keep the stain well mixed! Colorant will settle out quickly. To maintain color uniformity, make sure to mix the bucket whenever you take out more stain.