WOODguard Exterior Finish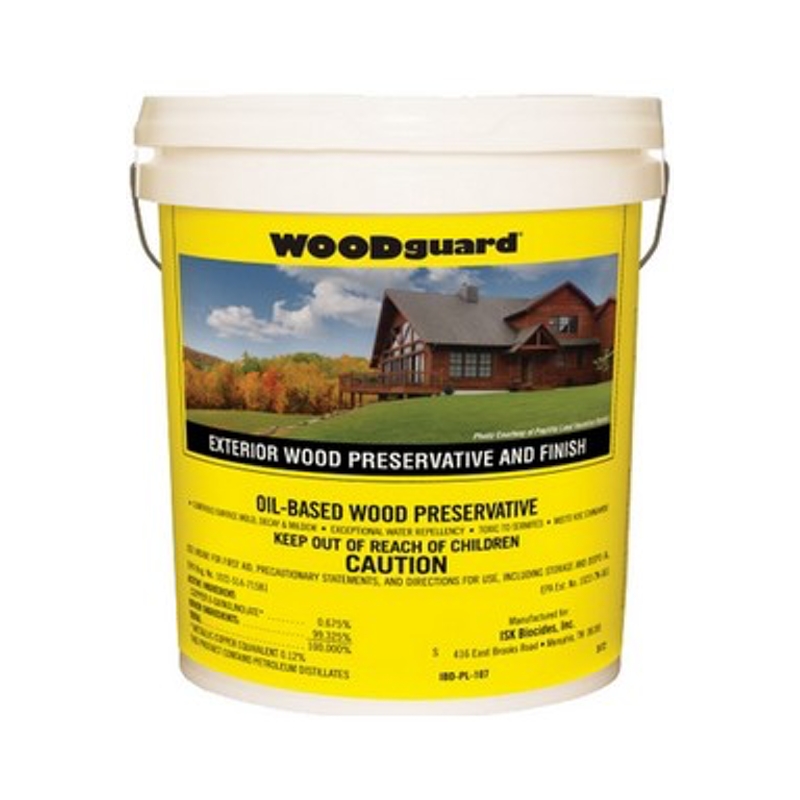 WOODguard contains two transparent ultra violet (UV) blocking pigments which protect the finish from damaging ultra violet rays and improve water repellency.  WOODguard forms a semi-transparent polymer film, which holds the pigments to the wood and allows the logs to breathe.
FEATURES:  WOODguard is a highly durable, oil-based,wood preservative stain designed for exterior log homes and siding.  The WOODguard oil formula provides long-term protection and water repellency by penetrating deeply into the wood.  WOODguard is VOC Compliant in All 50 States.
Customer Reviews
WOODGuard Exterior
Average rating:
0 reviews
Customer Service is Available from 9am to 4pm EST
Call To Order by Phone
Or to Inquire About a Product
Check out the Amazing Benefits of WOODguard Exterior:
Exceptional water repellency on sloping and vertical surfaces.
One coat coverage. (Apply to the point of refusal.)
Controls mold and decay as well as wood cupping and warping.
WOODguard is toxic to termites and anobid powder post beetles.
WOODguard is especially well suited for applications where environmental safety is needed.
WOODguard combines excellent mold and decay control with exceptional water repellency that withstands outdoor weathering for years, even on old, cracked, weathered wood.
WOODguard utilizes an active ingredient known as Copper 8-Quinolinolate which will not photo-degrade.
WOODguard will not chip, crack or peel. When applied as directed, it eaves a uniform,"streak-free" appearance.
WOODguard protects and extends service life by inhibiting UV, mold, decay, cupping and warping.
Directions for Use:
It is a violation of Federal Law to use WOODguard in a manner inconsistent with its labeling. New or weathered wood must be cleaned pair to your WOODguard application. See Preparation and Maintenance Guide for directions.
Apply liberally to log buildings, roof, or wood siding by simply wetting down the surface as follows:
Spray: Do not use airless spray equipment. Use a garden-type, pump-up sprayer with adjustable nozzle. Set nozzle to deliver a low pressure, course spray and back-brush as necessary.
Brush: A regular paint brush is fine for most surfaces. For uneven shingle or rough surfaces, use a stiff bristle brush. Apply evenly, brushing out sags etc as necessary.
Roller: Use a long nap for rough surfaces.
One coat is sufficient. Surface must be cleaned and free off all loose debris. Apply to dry wood for maximum penetration and fastest drying. Wood must be dry before application. (less that 18% moisture)
Avoid contact with plants, shrubs and trees.
NOTES
Stir well before use.
WOODguard goes on "dark" but lightens considerably during the curing period.
Cure time will range from 3 days to 2 weeks, depending on temperature and wood porosity.
Coverage: 150 to 300 sq. ft. per gallon, depending on surface condition and wood porosity. Always apply to the point of refusal.
Application temperature: Do not apply if the overnight low temperature is below 50°/10° C or the daytime high temperature is above 95°F or 35°C. At 50° to 55°F, dilute with mineral spirits or turpentine – one pint to one gallon of WOODguard. The hotter the weather, the faster the drying. Below 65°F, WOODguard may be come to viscous to spray, but easily spreads by brush down to 50°F. If unsure of temperatures on cool days, add one quart of turpentine to each 5 gallons of WOODguard used and mix well to improve penetration into the wood and aid in cure times. This will also assist in spraying at cooler temperatures. DO NOT OVER DILUTE or performance will be reduced.
WOODguard softens asphalt (including asphalt shingles – avoid contact)
Do not apply if rain is expected within 36 hours.
WOODguard provides and immediate water repellent barrier, however, its ability to bead water develops as it cures. Re-Treat with the surface exhibits signs of losing capability to inhibit water penetration.
Avoid open flame during application and until WOODguard has soaked in completely.
Subsequent painting – WOODguard provides such strong properties of water repellency that subsequent applications of paint will not adhere as long as the WOODguard barrier remains intact. If in doubt, test first.
WOODguard protection will not withstand repeated contact with chlorine or chlorinated water. Avoid using on wood in contact with this chemical, or retreat ad necessary.
Until WOODguard has thoroughly cured, treated surface may be slippery.
First Time Ordering WOODguard? We Strongly Recommend Ordering Color Samples First: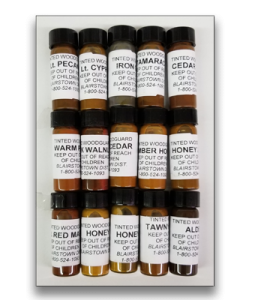 Package includes 15 color samples of WOODGuard.  The samples displayed below are all on Pine, but colors vary from wood to wood, and even different pines will show different results.  The only way to know for sure how a particular WOODguard color will appear on YOUR wood is to request a sample.  The exact same color looks much different on cypress than on pine or red cedar.Before applying the WOODguard Color Samples, ensure the surface is clean and that the wood is dry.
Custom Light Tones by Blairstown Distributors
Custom Midtones by Blairstown Distributors
Custom Dark Tones by Blairstown Distributors
Factory Pre-Tinted WOODguard Colors
Customer Service is Available from 9am to 4pm EST
Call To Order by Phone or Inquire About a Product